Opportunities for India in the Digital Economy
The digital economy is the new productivity platform that some experts regard as the third industrial revolution. Digital revolution, also known as 'The Internet Economy' or Internet of Everything (IoE), is expected to generate new market growth opportunities, jobs and become the biggest business opportunity of mankind in the next 30 to 40 years.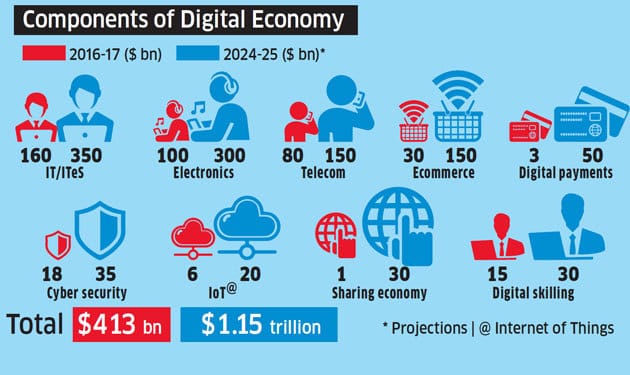 Goldman Sachs predicts that India – comprising 15% of the world population, with a growth rate of 7 to 8%, could be the second largest economy by 2030.
The Department of Electronics & Information Technology of India published Internet of Things policy estimating IoT industry in India grow up to INR 940 billion, by 2020.
Cisco estimates that all IoE pillars – Internet of things, Internet of people, Internet of data, and Internet of Process for India have a value at stake (VAS) of INR 31.880 trillion (about half a trillion U.S. dollars) for the next ten years. From that INR 7.263 trillion is in the public sector and INR 24.616 trillion is in the private sector during the next decade.
Primary benefits of India's public sector are increased revenue; reduced costs; higher employee productivity; improved safety and security; improved environment; enhanced citizen experience, and better health and well-being.
Overall VAS in India's private sector is calculated to be INR 24.616billion. For the private sector, there are two categories of opportunities: cross-industry use cases with INR 5.860 trillion and vertical-industry use cases with INR 18.756 trillion.

All-round Growth
*500 millionn users will consume online videos by 2020
*Fourth largest category will be online news, reaching 280 million users by 2020 from 106 million users today
* 50% of internet users will pay digitally by 2020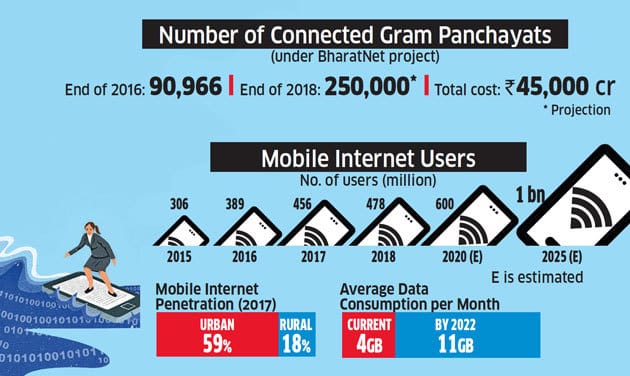 Challenges to Digital Economy Growth
*Slow roll-out of Wi-Fi hotspots
*Most small & medium enterprises still not online & slow to adopt technology
*Entry-level smartphones have limited capabilities to allow smooth internet access
*Not enough skilled manpower in digital technologies
*Lack of user education