The mega-merger of Vodafone India and Idea Cellular has been cleared by the National Company Law Tribunal (NCLT), paving the way for the creation of India's largest telecom operator worth over $23 billion with a 35 percent market share.
The telecom juggernaut — Vodafone Idea Ltd — will dislodge the current market leader Bharti Airtel from the pole position, by its sheer size and scale.
The combined entity of Vodafone and Idea Cellular will have nearly 443 million customers surpassing Bharti Airtel's 344 million users.
A new board has been constituted for the merged entity "Vodafone Idea Ltd' with 12 directors (including six independent directors) and Kumar Mangalam Birla as its Chairman. The board has appointed Balesh Sharma as the CEO, the companies said in a joint statement.
The combination will have all-India revenue market share of 32.2 percent and take the numero uno slot in nine telecom circles, it said, adding that both Vodafone and Idea brands will continue.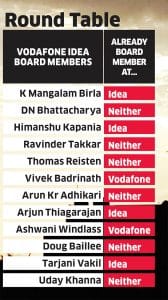 The telecom giant will topple Bharti Airtel from its current pole position, and will have the firepower to take on competition in the Indian telecom market, which has intensified with the aggressive entry of Reliance Jio.
It will have a broadband network of 3.4 lakh sites and distribution network with 17 lakh retail outlets.
Kumar Mangalam Birla, Chairman Aditya Birla Group and Vodafone Idea Limited, said, "Today, we have created India's leading telecom operator. It is truly a historic moment. And this is much more than just about creating a large business. It is about our Vision of empowering and enabling a New India and meeting the aspirations of the youth of our country.
The "Digital India", as our Honourable Prime Minister describes it, is a monumental nation-building opportunity. As Vodafone Idea, we are partnering in this initiative by building a formidable company of international repute, scale and standards."