India and Pakistan have agreed to undertake the Indus Waters Treaty mandated tours by their Commissioners in the Indus basin on both sides to resolve issues on the various hydroelectric projects, including the Pakal Dul and Lower Kalnai in Jammu and Kashmir.
After the conclusion of the two-day high-level bilateral talks on the Indus Waters Treaty in Lahore, the first official engagement between India and Pakistan since Imran Khan became Prime Minister on August 18, the External Affairs Ministry said deliberations were held on further strengthening the role of the Permanent Indus Commission (PIC) for matters under the 1960 Treaty.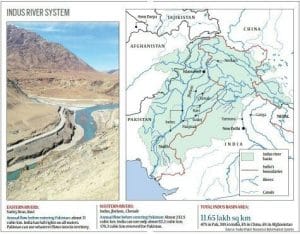 As per the provisions of the treaty, technical discussions were held on implementation of various hydroelectric projects under the provisions of Indus Waters Treaty including Pakal Dul (1000 MW) and Lower Kalnai(48 MW) in the state of Jammu and Kashmir.
India and Pakistan signed the Indus Waters Treaty in 1960 after nine years of negotiations, with the World Bank being a signatory. The water commissioners of both the countries are required to meet twice a year and arrange technical visits to projects' sites and critical river head works.