India and Pakistan accepted the rights and obligations of each other on the use of
water of Indus Basin through the Indus Water Treaty. On 19 September, 1960, the
Indus Water Treaty was signed in Karachi by Prime Minister of India, Jawaharlal
Nehru, and the President of Pakistan, Muhammad Ayub Khan and senior vice
president of the World Bank, W.A.B. Liff. The treaty was subsequently ratified by
two governments and the ratification was exchanged in New Delhi in the January of
1961. The Indus Water Treaty considered a landmark step in promoting trust and
understanding between the people of the two countries.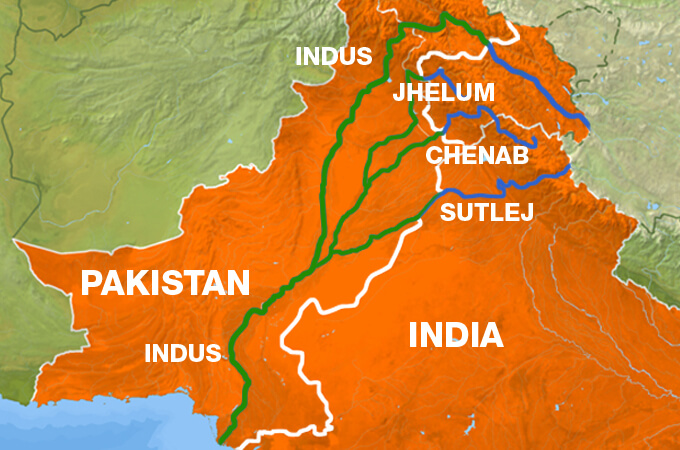 Apart from Indus Water Treaty, three other agreements were signed in 1960.
The first agreement was related to the establishment of an Indus Basin Development
Fund (IBDF) of $ 894 million. Out of the total, $ 640 was contributed by friendly
countries, such as Australia, Canada, West Germany, New Zealand, the United
Kingdom and the United States. The IBDF agreement was signed between Pakistan
and aforementioned friendly countries. To facilitate the agreement, India also
contributed $ 174 million, and $ 80 million was given from the proceeds of the World
Bank loan to Pakistan.The fund was mainly collected for the transfer of
infrastructure and construction of replacement works on western rivers.
The second agreement was signed between Pakistan and the World Bank for a loan of $ 90
million. The last agreement covered a loan of $ 70 million from the US Development
Loan Fund.The Indus Water Treaty addressed both the technical and financial concerns of
each side and included a timeline for transition. It was retroactive from 1 April, 1960.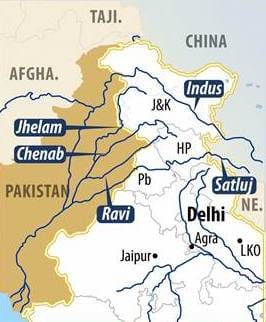 The Indus Waters Treaty (IWT) deals with river Indus and its five tributaries, which are classified in 2 categories:
Eastern rivers:
Sutlej
Beas
Ravi
Western rivers:
Jhelum
Chenab
Indus
According to treaty, all the water of eastern rivers shall be available for unrestricted use in India.
India should let unrestricted flow of water from western rivers to Pakistan.
It doesn't mean that India can't use western river's water. The treaty says that India can use the water in western rivers in "non-consumptive" needs. Here non consumptive means we can use it for irrigation, storage and even for electricity production. (But India has not fully utilized this provision so far).
The treaty allocates 80% of water from the six-river Indus water system to Pakistan.
A Permanent Indus Commission was set up as a bilateral commission to implement and manage the Treaty.
Though Indus originates from Tibet, China has been kept out of the Treaty.

India-Pak Disputes Connecting Indus: Timeline
1948: India cuts off supply in most canals that went to Pakistan. But restores it later.
1951: Pakistan accuses India of cutting water to many of its villages.
1954: Word Bank comes up with a water-sharing formula for two countries.
1960: Indus Waters Treaty signed.
1970's: India starts building hydropower projects in Kashmir. Pakistan raises concern.
1984: Pakistan objects over India building Tulbul barrage on Jhelum. India stops it unilaterally.
2007: Pakistan raises concern over Kishanganga hydroelectric plant.
2008: Lashkar-e-Taiba starts campaign against India. Its chief Hafiz Saeed accuses India of water terrorism.
2010: Pakistan accuses India of choking water supply consistently.
2016: India reviews working of Indus Waters Treaty linking it with cross-border terrorism (Uri attack).

Can India stop water flow to Pakistan?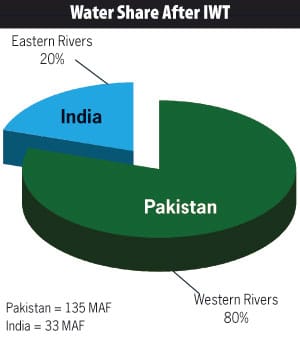 No. Not as per the treaty.
What India can do is to reduce the water flow to Pakistan by utilizing the provisions of the treaty.
But any project which may affect water flow will take time for implementation, considering the cost and objections involved.
Pakistan has reportedly objected to five Indian hydro power projects, and the Wullar Barrage (Tulbul Navigation Project) which must be settled before India can resume work on them.