The shipping and railway ministries along with Madhya Pradesh and Maharashtra governments on Tuesday entered into a pact to implement around Rs 90 billion Indore-Manmad rail project.
"We are starting a very big railway project from Indore to Manmad. Indore is a commercial hub and from here the containers by using Central railways will come to Manmad and from Manmad they (containers) will go to JNPT (Jawaharlal Nehru Port Trust)," Shipping Minister Nitin Gadkari told reporters here.
The tribal sectors of Madhya Pradesh and Maharashtra, he said, will benefit from the railway line which will cost around Rs 90 billion, he said after the signing of the MoU.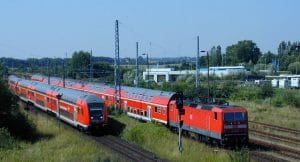 The project will reduce the distance from Mumbai/ Pune to key central India locations by 171 km.
Gadkari said that due to this line the existing route of 815 km will be reduced to 644 km.
The project is estimated to result in cumulative net economic benefits of Rs 150 billion in the first 10 years of operations.
The project will reduce the logistics cost for the cargo centres located in Northern India such as Lucknow, Agra, Gwalior and Kanpur belt as well as IndoreDhule Bhopal region to the gateway ports JNPT and Mumbai.
It will be an alternate route to the existing central and western railway lines and will reduce congestion on the over utilised existing railway network.