The Election Commission of Sri Lanka and the Asian Network for Free Elections (ANFREL) to convene the two day Fourth Asian Electoral Stakeholders Forum (AESF-IV) on August 27 and 28 in Colombo under the theme "Advancing Election Transparency and Integrity: Promoting and Defending Democracy Together." The Colombo AESF is the first to be held in South Asia.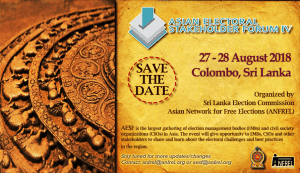 About AESF
The Asian Electoral Stakeholder Forum (AESF) is a continuing engagement between election management bodies (EMBs) and civil society organizations (CSOs) in Asia. There have already been three successful gatherings since it was first launched in 2012: AESF-1 in Bangkok, Thailand (2012), AESF-2 in Dili, Timor-Leste (2015), and AESF-3 in Bali, Indonesia (2016).
AESF-IV Organizers
The Election Commission of Sri Lanka is the constitutional authority responsible for ensuring the universal franchise of citizens of the Democratic Socialist Republic of Sri Lanka by conducting free and fair elections and referendums and preparing the electoral register for this purpose are the functions of the present department. In order to carry out this task the Commissioner of Elections and have been vested a distinctive and unique independency which is occupied by none other government Institutions.
The Asian Network for Free Elections (ANFREL) is a leading regional network in Asia working on the promotion of democratic elections. Formed in 1997, ANFREL was organized as a solidarity movement working to advance the cause of free and fair elections. At present, it has 26 members from 16 Asian countries. As part of its overall mission of supporting democratization efforts in Asia, ANFREL focuses its work on three major areas: election observation, capacity building, and campaign and advocacy. It takes a holistic approach to achieve its mission, and these programs are designed to complement one another in supporting the advancement of free and fair elections across Asia. Since ANFREL's establishment, it has carried out 57 election observation missions across Asia.