About HPPSC & HAS Coaching
Nimbus Academy is well know in India for its committed classroom coaching for HAS.
the selection rate of the Academy is all magnificent across all examination conducted by HPPSC viz.- HPAS,
Naib Tehsildar and Allied Services.We provide 2 well detailed books on Preliminary and mains examination
respectively along with most relevant Test Series
HPPSC HPAS Prelim Exam 2018
Interested and eligible candidates can get the complete details of
Himachal Administrative Service 2018 like Application Form, Eligibility Criteria,
Selection Process, Admit Card, Answer Key, Result here.
Age Limit (As on 01.01.2018) – Between 21 years to 35 years.
Educational Qualification – Bachelor's Degree or its equivalent from a recognized University.
Selection Process-Candidates selection will be made on the basis of marks obtained in Written Examination (Preliminary & Main Examination) which will be followed by Personal Interview.
HPAS Eligibility Criteria
A candidate must be a citizen of India.
Minimum Educational Qualifications –
A candidate must possess a Bachelor's Degree or its equivalent from a recognized University.
A candidate, who has appeared at an examination the passing of which would render him eligible to appear at this examination but has not been informed of the result, may apply for admission to the examination. A candidate, who intends to appear at such a qualifying examination, may also apply, provided the qualifying examination is completed before the commencement of this examination. Such candidates will be admitted to the examination, if otherwise eligible, but the admission would be deemed to be provisional and subject to cancellation if they do not produce proof of having passed the examination as soon as passed and in any case not later than two months after the commencement of this examination
Candidates who have passed the final professional MBBS or any other Medical Examination equivalent thereto but have not completed their internship by the time of submission of their application for the HAS etc. examination will be provisionally admitted.
Age Limits – A candidate must have attained the age of 21 years and must not have attained the age of 35 years on January 01, 2018.

Knowledge of customs, manners and dialects of Himachal Pradesh and suitability for appointment in the peculiar conditions prevailing in the Pradesh is a desirable qualification.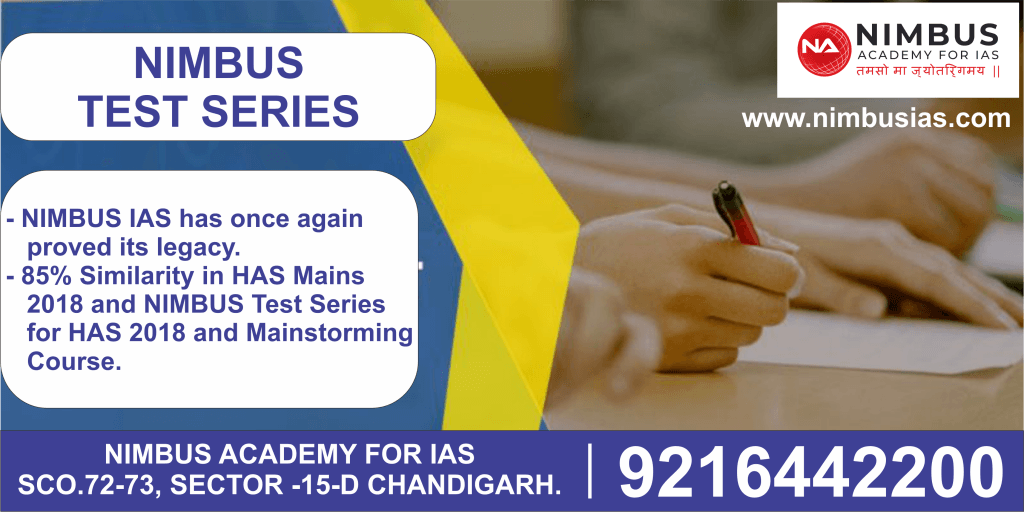 I found the environment of NIMBUS is really student friendly. Regular tests on each topic keeps students motivated. Availability of all reference books in its library is truly helpful for preparation.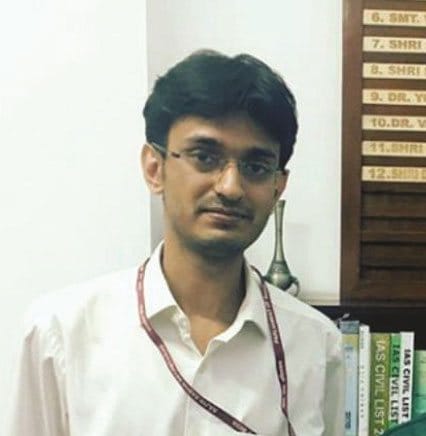 Saurabh Sabhlok
(IAS Rank-124)This preliminary examination will consist of two objective type papers (multiple choice questions) and carry a maximum of 400 marks.
Negative Marking: There will be penalty (Negative Marking) for wrong answers marked by a candidate. For each wrong answer, one-third of the marks assigned to that question will be deducted as penalty.
| Preliminary Exam Papers | Max Marks |
| --- | --- |
| Paper I – General Studies | 200 |
| Paper II – Aptitude Test | 200 |
Main Written Examination
The candidate shall specify in his/her application form the optional subject he/she desire to take. He /She may intimate any change of his/her intention to the Secretary, Himachal Pradesh Public Service Commission not later than the last date prescribed for the receipt of Application. A candidate shall answer the Optional Paper in English or in Hindi as per his/her option.
https://youtu.be/NzTpa64aBns
Compulsory Subjects
Subjects
Max Marks
English - Qualifying
100
Hindi - Qualifying
100
Essay
100
General Studies – I
200
General Studies – II
200
General Studies – III
200
Optional Subject (One)
Paper I
100
Paper II
100
Viva-Voce
Viva-Voce
150
Total
1050
Viva-voce
The total number of candidate to be called for interview/personality test on the basis of written examination, shall not exceed three (3) times the number of the vacancies notified for recruitment through that examination.
HPPSC HPAS Selection Process 2018
Himachal Pradesh Administrative Combined Competitive Examination will consist of three successive stages to complete the selection process.
– Preliminary Examination
– Main Written Examination
– Viva-Voce
HPAS Preliminary examination
Initially, Preliminary examination consisting of 02 papers based on objective type
(multiple choices) questions on the following pattern will be held. Qualified candidates
in Prelims examination only
proceed or eligible for appearing the Main Examination.HPAS Main Written Examination
The candidates declared qualified in the Preliminary examination will be entitled for admission to the Main written examination, if otherwise found eligible. The number of candidates to be called for Main written examination will be about 20 times of the total number of vacancies to be filled in on the basis of aforementioned examination.
No candidate shall be considered to have qualified the written examination unless he obtains at least 40% marks in Hindi and English (Compulsory Papers) and 45% marks in the aggregate. The marks obtained in English and Hindi (Compulsory Papers) will not be counted for the purpose of ranking though it would be necessary for the candidates to secure minimum 40% marks in each of these papers to qualify.
The candidates, who qualify the main examination, will have to download the call letter for the interview. No separate call letters will be sent for Main examination.
HPAS Viva-Voce
The number of candidates to be called for viva-voce test after the Main written examination by the
Commission shall be at its discretion on the basis of marks obtained by them in the Main written
examination only. As far as possible this number will be three times the total number of vacancies.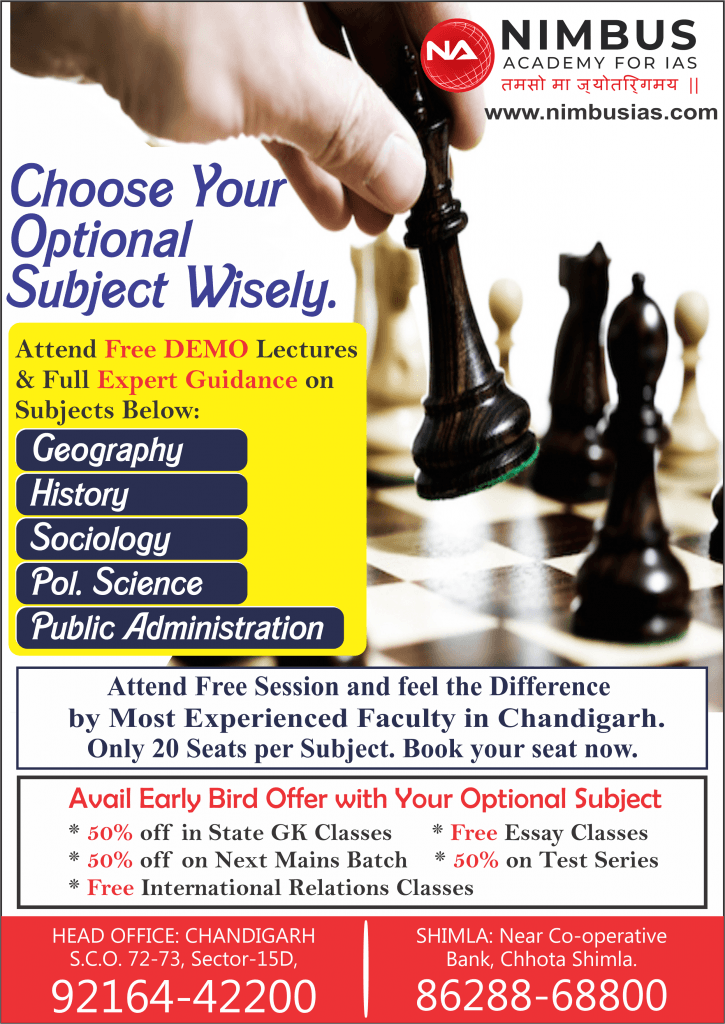 Free Demo Classes
Please feel free to contact us online by filling out the form below and we will get back to you as soon as possible.
Book Counselling & Free Demo Lecture
Current Affairs
Chinese lunar rover named as 'Yutu 2'

Wi-Fi facility at 2,000 rail stations soon

Rafale will bring Modi back, says Nirmala Sitharaman

Appropriate Bench' will hear Ayodhya appeals

GST collections down for second month in a row

U.S., Israel officially quit UNESCO

NHRC seeks report on student suicides in Navodaya Vidyalayas

Global advertising meet in Kochi on February 20-22

Acting Chief Justice takes oath in A.P.

India, Pak. move towards release of civilian prisoners
Related Videos
nimbus academy for IAS

Tips for preparation of IAS (Pre and Mains)

Arkaz Sharma (Three Times IAS Interview appeared)