About HP-Allied Pre-Test Series 2020
Our HP-allied Pre-test series 2020 is a way to find out how much you understand the subject in the entire course. The most important thing which helps you to grow in a world full of competition is to prepare well before you face the actual exam. Every year hundreds of students get the benefit of our HP-Allied Pre-Test Series online as well as offline mode.
We have launched our HP-Allied Pre-Test Series 2020 starting from 14th January 2020. The syllabus for HP-Allied Prelims Test Series 2020 is divided in such a way that students can cover each and every topic. Every question is designed by our experts and as per the latest pattern. Our HP-AlliedTest Series 2020 will help you in analysing your weak areas so that you can improve well on time.
All the details regarding dates for HP-Alied Pre Test Series are given below. 
| Date | Tests |
| --- | --- |
| 14-01-2020 | FLT – 1 |
| 17-01-2020 | FLT – 2 |
| 21-01-2020 | FLT – 3 |
| 24-01-2020 | FLT – 4 |
| 28-01-2020 | FLT – 5 |
| 31-01-2020 | FLT – 6 |
| 03-02-2020 | FLT – 7 |
| 06-02-2020 | FLT – 8 |
HAS-Allied PRE-Test Series
Total Tests – 8

All are full Length Tests
HIMACHAL PRADESH PUBLIC SERVICE COMMISSION
HP Allied Services
Himachal Pradesh Subordinate Allied Services/ Posts (Class-III, Non Gazetted) Examination-2019
CLOSING DATE FOR SUBMISSION OF ONLINE RECRUITMENT APPLICATIONS (ORA) THROUGH ORA WEBSITE IS UPTO 15-01-2020 till 11:59 P.M. after which the link will be disabled.
(by using the website http://www.hppsc.hp.gov.in/hppsc).
DATE FOR DETERMINING THE ELIGIBILITY OF ALL CANDIDATES IN ALL RESPECT SHALL BE THE PRESCRIBED CLOSING DATE FOR SUBMISSION OF ONLINE RECRUITMENT APPLICATIONS (ORA) i.e. 15-01-2020.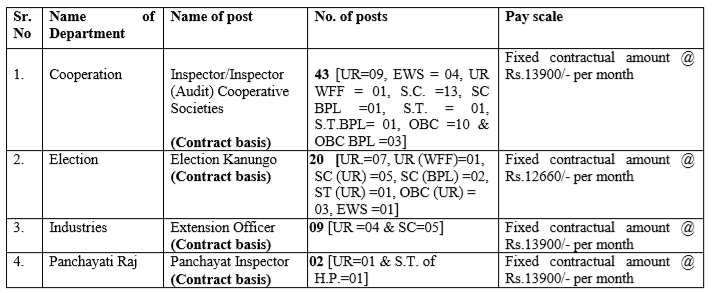 HOW TO APPLY:-
The Candidates must apply online through the website http://www.hppsc.hp.gov.in/hppsc. Applications received through any other mode would not be accepted and summarily rejected. Detailed instructions for filling up Online Recruitment Application(s) are available on the above mentioned website.
ELIGIBILITY CONDITIONS:-
(1) Nationality:- The Candidate must be a citizen of India.
(2) Minimum educational qualification:- A Candidate must hold a Bachelor degree of any of the universities incorporated by an Act of the Central or State Legislature in India or other Educational Institutions established by an Act of Parliament or declared to be a deemed university under section 3 of the University Grants Commission Act, 1956 or possesses an equivalent qualification.
Note:- Candidates possessing professional and technical qualifications, which are recognized by the State Government as equivalent to professional or technical degree, would also be eligible for admission to the examination.

Desirable:- Knowledge of Customs, manners and dialects of Himachal Pradesh and suitability for appointment in peculiar conditions prevailing in the Pradesh
(3) AGE: – Between 18 years and 45 years.
a. Age of a candidate shall be reckoned as on 01-01-2018.
b. Five years relaxation in upper age limit is admissible only to the bonafide SC of H.P. / ST of H.P. / OBC of H.P. /WFF of H.P. / Persons with disabilities of Himachal Pradesh. For H.P. Govt. employees and Ex-servicemen of H.P.; age relaxation is as per Government's instructions issued from time to time.