Camaraderie marks start of Modi-Xi 'informal summit'
The second "informal summit" between Prime Minister Narendra Modi and China's President Xi Jinping began on Friday at Mamallapuram, a town famously associated with Pallava rulers, with the two leaders spending a few hours in the evening together and getting a glimpse of the blend of south Indian art and culture.
Ethiopia PM Abiy Ahmed wins Nobel Peace Prize

Mr. Abiy was honoured "for his efforts to achieve peace and international cooperation, and in particular for his decisive initiative to resolve the border conflict with neighbouring Eritrea"
Industrial output shrinks by 1.1% in Aug.
The Index of Industrial Production (IIP) contracted 1.1% from a year earlier, following a growth of 4.3% in July. Industrial output had grown 4.8% in August 2018. Within the Index, the mining sector saw growth decelerating to 0.1%, from a 4.9% expansion in July. Mining output shrank 0.6% in August 2018. The manufacturing sector, hampered by poor demand, witnessed a contraction of 1.2%, compared with a growth of 4.2% in July and a 5.2% expansion in the year earlier period.
High Court issues notices to DoE, govt. school over Pakistani national's plea
The Delhi High Court on Friday issued notice to the city government on a plea challenging rejection of admission in a government school here of three children of a Pakistani national who claims to have migrated to India along with his family in May this year.
Justice Rajiv Shakdher issued notices to the Directorate of Education (DoE) of the Delhi government and the school run by it and posted the case for further hearing on October 17.
RTI violations go unpunished, says study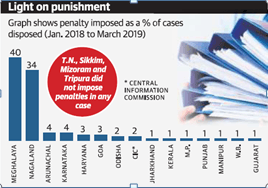 As the RTI Act marks its 14th anniversary on Saturday, a report card analysing its performance showed that government officials face hardly any punishment for violating the law by denying applicants the legitimate information sought by them. The State and Central Information Commissions, which are the courts of appeal under the Act, failed to impose penalties in about 97% of the cases where violations took place in 2018-19.
IRS officer booked for allegedly clearing UPSC on fake identity.
The Central Bureau of Investigation has booked a 2008batch Indian Revenue Service (IRS) offi_cer for allegedly clearing the Union Public Service Commission (UPSC) examination under an assumed identity and joining the service based on forged educational certifi_cates, as he had overshot the upper age limit.
The accused, Navneet Kumar alias Rajesh Kumar Sharma, is currently a Deputy Commissioner with the CGST & Central Excise in the East Zone of Kolkata. He belongs to West Champaran in Bihar.
Darjeeling tea workers to get 20 per cent bonus.
The West Bengal government and the Tea Planters' Association of Darjeeling hills on Friday agreed to the demand of tea garden workers across 87 gardens in the Darjeeling hills for a 20% bonus.