PM MODI CHAIRS MEETING ON 'EK BHARAT SHRESHTHA BHARAT' PROGRAMME
In the Ek Bharat Shreshtha Bharat' the government plans to hold people-to-people exchange between states to enhance knowledge about each others culture.
'Ek Bharat Shrestha Bharat' is a personal initiative of Modi that highlights India's diversity and furthers national unity.
"The goal is to develop a holistic national perspective on important issues and encourage celebration of India's vibrant regional cultures.
The programme was announced by the prime minister on October 31, 2015 on the 140th birth anniversary of Sardar Vallabhbhai Patel.
BRICS CULTURE MINISTERS' MEETING HELD IN BRAZIL–
Union Minister of State for Culture and Tourism (Independent charge) Prahlad Singh Patel participated in BRICS Culture Ministers' meeting held in Curitiba, Brazil.
At the meet the minister reaffirmed India's commitment to contribute towards strengthening bonds between member countries.
Since, BRICS countries have witnessed cultural cooperation scaling to new heights, thereby India proposed to add literature as another field of cooperation between countries.
BRICS-
It is the acronym coined for an association of five major emerging national economies: Brazil, Russia, India, China and South Africa.
Originally the first four were grouped as "BRIC", before the induction of South Africa in 2010.
Founded- June 2006
ABHIJIT BANERJEE, ESTHER DUFLO AND MICHAEL KREMER JOINTLY AWARDED 2019 NOBEL PRIZE IN ECONOMIC SCIENCES-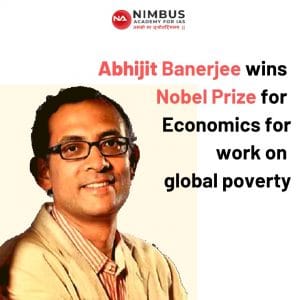 These three economists have won the biggest prize in economics for their work into the causes of poverty.
The Sveriges Riksbank Prize in Economic Sciences in Memory of Alfred Nobel has been handed to Abhijit Banerjee and Esther Duflo of Massachusetts Institute of Technology, and Michael Kremer of Harvard.
All three were recognised for their "experiment-based approach" to tackling global poverty, and using randomised control trials to discover which educational outcomes or child health initiatives actually work.
This makes Abhijit Banerjee and Esther Duflo the sixth married couple to win the Nobel Prize.
PM MODI BECOMES MOST FOLLOWED LEADER WITH 30 MILLION FOLLOWERS ON INSTAGRAM-
Prime Minister Narendra Modi has become the world's most-followed leader on Instagram with more than 30 million followers.
He has left behind a lot of celebrities and world leaders in terms of Instagram followers.
The Indonesian President Joko Widodo comes second on photo-sharing app Instagram with 25.6 million followers.
Former US President Barack Obama appears in the third position with 24.8 million followers on Instagram app owned by Facebook.
JAPAN BEGINS CLEAN-UP AFTER TYPHOON HAGIBIS LEAVES DOZENS DEAD-
Tens of thousands of troops and rescue workers worked in Japan to fight floods and help stranded residents after one of the most powerful typhoons to hit the country in six decades left as many as 36 people dead.
Typhoon Hagibis- which means "speed" in the Philippine language, Tagalog – left the capital, Tokyo, relatively unscathed, but caused serious damage to surrounding regions.
More than 100,000 rescuers – including 31,000 troops – clawed their way through debris to reach people trapped by the floods or whose homes had been buried.
PRESIDENT KOVIND WILL GO ON A SEVEN DAY VISIT TO PHILIPPINES, JAPAN-
President Ram Nath Kovind will pay a seven-day-visit to the Philippines and Japan from October 17 with an aim to expand bilateral cooperation with the two Asian countries,
It was announced by the Ministry of External Affairs (MEA).
The five-day visit would witness the President holding both restricted and delegation-level talks with his Philippines counterpart Rodrigo Roa Duterte in Manila, as well as participating in business and community events.