Rajnath receives first Rafale in France; delivery only next year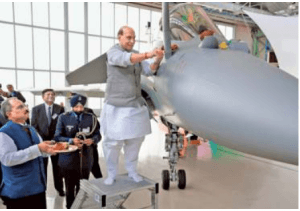 Defence Minister Rajnath Singh formally received the first Rafale fighter jet built for the Indian Air Force (IAF) in France on Tuesday Dated 8/10/2019. However, the first batch of the jets will arrive in India only in May 2020.
By February 2021, we will receive 18 Rafale jets and by April 2022, we will get all the 36 Rafale.
Till May 2020, three batches of IAF pilots, engineers and technicians will undergo advanced training on the Indian jets in France.
Canadian-­American, two Swiss stargazers win Physics Nobel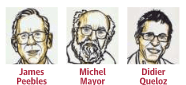 A Canadian-American cosmologist and two Swiss scientists won this year's Nobel Prize in Physics on Tuesday for exploring the evolution of the universe and discovering a new kind of planet, with implications for that nagging question: Does life exist only on earth.
Canadian­born James Peebles, 84, an emeritus professor at Princeton University, won for his theoretical discoveries in cosmology. Swiss star­gazers Michel Mayor, 77, and Didier Queloz, 53, both of the University of Geneva, were honoured for finding an exoplanet — a planet outside our solar system — that orbits a sun­like star, the Nobel committee said.
Nationwide NRC: Centre has to set cut­off date 
Home Minister Amit Shah reiterated his stand on a wider NRC exercise a few days ago in Kolkata when he said "all infiltrators will be thrown out" while assuring six nonMuslim communities from neighbouring Bangladesh, Pakistan and Afghanistan that the "BJP government will bring the Citizenship Amendment Bill before NRC."
Stop exclusion from Sixth Schedule: Meghalaya tribes
Organisations representing five minor tribes in Meghalaya have asked Chief Minister Conrad K. Sangma to intervene in the move to exclude them from the provisions of the Sixth Schedule of the Constitution.
The five minor tribes – Bodo­Kachari, Hajong, Koch, Mann and Rabha – are clubbed as "unrepresented tribes" for nomination in Meghalaya's autonomous tribal councils. These councils are in the names of Garo, Jaintia and Khasi, the State's three major matrilineal communities.