Once Again,

The Team of Nimbus Academy for IAS has Cracked the code of HAS Mains 2018. There was 85% similarity of Questions asked in HAS Mains 2018 from NIMBUS Test Series for HAS Mains 2018 and "Mainstorming" Course.
Kindly, check the questions of HAS Mains 2018 and NIMBUS Test Series for HAS Mains 2018.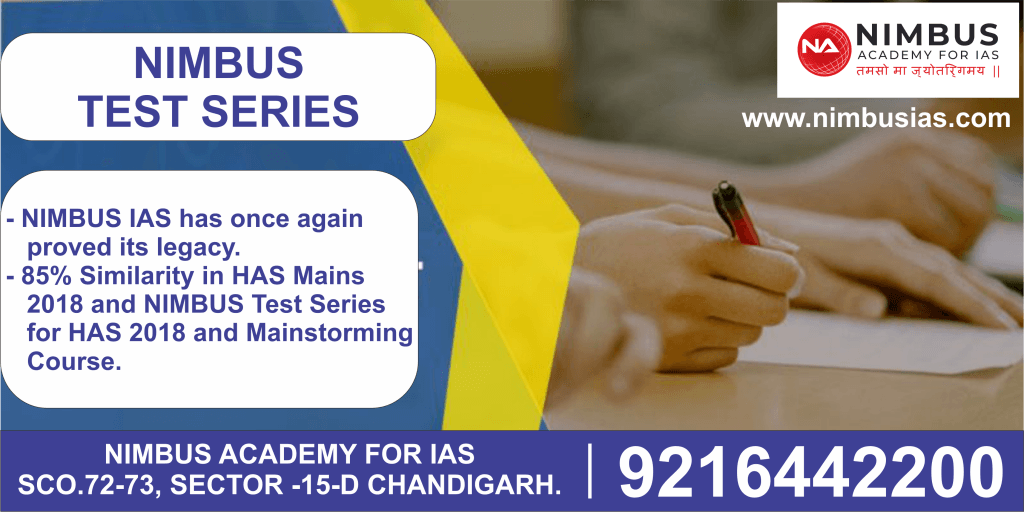 Cracking HAS is no more an uphill task.
– Join our 'Mainstorming' Course to improve your Answer Writing skills.
– Get your Answers evaluated by experts.
– Enroll for All new dedicated batch for HAS-Preliminary Starting from January 2019.
Free Demo Classes
Please feel free to contact us online by filling out the form below and we
will get back to you as soon as possible.
Book Counselling & Free Demo Lecture
Current Affairs
Chinese lunar rover named as 'Yutu 2'

Wi-Fi facility at 2,000 rail stations soon

Rafale will bring Modi back, says Nirmala Sitharaman

Appropriate Bench' will hear Ayodhya appeals

GST collections down for second month in a row

U.S., Israel officially quit UNESCO

NHRC seeks report on student suicides in Navodaya Vidyalayas

Global advertising meet in Kochi on February 20-22

Acting Chief Justice takes oath in A.P.

India, Pak. move towards release of civilian prisoners
Related Videos
nimbus academy for IAS

Tips for preparation of IAS (Pre and Mains)

Arkaz Sharma (Three Times IAS Interview appeared)